Account Based Marketing for SMBs
Account Based Marketing (ABM) is trending in the B2B world and for good reason. With ABM, you can start the sales process by selling directly to your business' best-fit, highest-value accounts. This can save you time and resources by eliminating marketing efforts that are spent on unqualified leads who aren't the right fit for your business.
So, What is Account Based Marketing?
Account Based Marketing is a marketing strategy that uses highly targeted, personalized campaigns to win over particular accounts.
In this approach, key business accounts are marketed to directly as an entire market, or units of one, rather than the standard one-to-many approach, which is meant to appeal to an entire market. With ABM, high-value accounts or prospects are identified, key stakeholders in these businesses are targeted, and then marketing strategies are implemented through various channels to appeal to their specific personas and needs.
In other words, ABM is a focused growth strategy in which Marketing and Sales collaborate to create personalized buying experiences for a mutually-identified set of high-value accounts that hold the greatest potential of adding to your company's bottom line.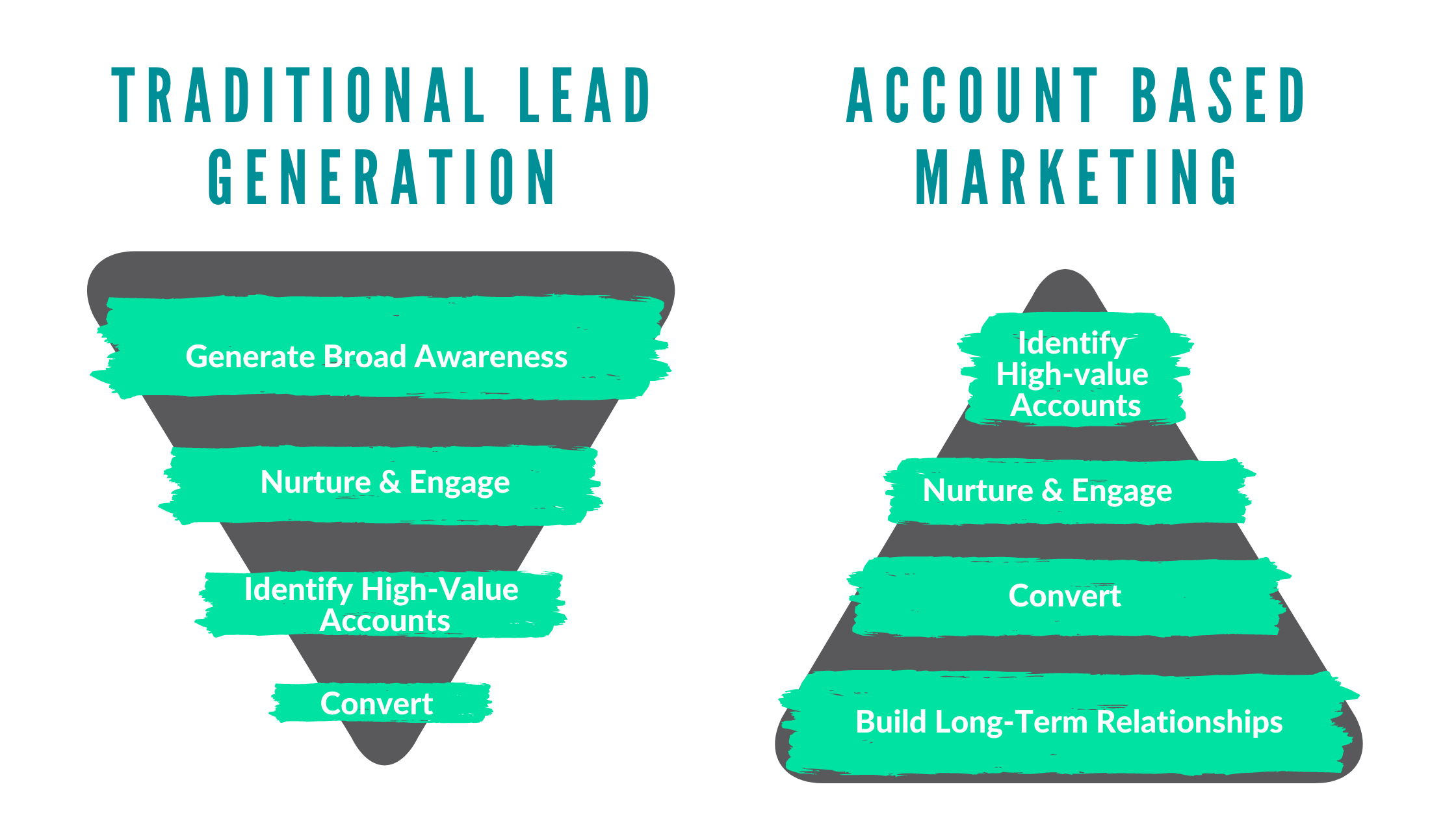 What Are The Benefits?
There are numerous benefits to this strategic marketing approach. To name a few:
Better alignment of sales and marketing teams

Boosts revenue

Clear ROI that is easy to measure

Allows you to focus on long-term business growth

Weeds out prospects who are less valuable or not a good match for your business earlier in the sales process

Ability to delegate more resources to delighting your ideal customers with better, more personalized experiences

Saves you time and valuable resources
Is

ABM Just For Larger Companies?
Not at all! While you may have heard rumors that ABM can only be accomplished by enterprise level B2B organizations, this is just a myth. With the right tools, ABM is both affordable and accessible for small and medium sized businesses.
Since SMBs have more limited resources, it's essential to make the most out of what they do have. For this very reason, ABM can be an attainable and successful strategy. With ABM, SMBs can focus their efforts and resources to target and convert the opportunities that will provide the biggest ROI.
How do I get started?
ABM will only work if your internal teams are aligned. ABM is so successful because your organization creates consistent experiences for your potential customers. Once you get buy-in from your internal team, you can plan your strategy with these steps:
Determine Your KPIs
Once your leadership is in alignment, you will need to identify how you will define success. Some KPI's to consider: Deal creation, Number of new contacts you reach within an organization, engagement within an account, deal-to-close time, net new revenue, and percent of deals closed.
Identify and Select Key Companies to Target
Now is the time to choose your high-value target accounts that you will invest your time and resources into. You can qualify these leads based on certain criteria including company size, industry, solution/product fit, budget, interests, culture, investments and business relationships.
Attract and Pinpoint Contacts and Stakeholders from Within Your Targeted Accounts
Drive interest with personalized messages and advertising speaking to their specific pain points and needs. It's important to consider not just the key decision makers, but also the influencers and end-users within the accounts. The more engagement and awareness you have within an organization, the more likely they are to convert. Utilize tactics like retargeting to keep your brand at the top of their minds.
Help Sales Close Deals with Insights and Personalized Data
This is the part where you can start to build relationships with the key contacts at your target organization. Provide sales with reports and information that will help them to tailor their conversations. With personalized messaging, you can provide more value to your contacts and ensure that you maximize the quality of conversations and interactions.
Measure, Analyze and Adjust your ABM efforts
Throughout the entire ABM process, it's important to keep an eye on your results. This way you will know how your efforts are contributing to the bottom line. See which tactics are working, and which are not. Be agile in your approach to cover any gaps. Are your efforts giving you the results you expected when you set your KPIs? This will allow you to make your strategy more effective and continue to increase your impact.
Celebrate your Successes
Most importantly, don't forget to celebrate your wins. When you put in the effort, and see your bank account grow, take a moment to recognize your efforts and pat yourself on the back!
Want to plan your very own ABM strategy? We have all the tools to set you up for success. Contact Us today to get started.