Always Be Marketing: ABM Strategies to Reach Your Prospects at Home
As COVID-19 rapidly spread across the world, businesses had to quickly adapt to keep their employees safe. Office workers transitioned to working remotely and face-to-face events were either canceled or became virtual. As many of us started working from home, the lines between work and home blurred. We all had to adapt to a new way of life, and as marketers, we had to adjust our messaging, and find new ways to interact with our prospects.
With all of these changes, those of us in the B2B space, particularly those running Account Based Marketing (ABM) strategies, were faced with challenges of creating appropriate, empathetic messaging and finding the best channels to deliver those messages.
ABM Remote Challenges

As we all know, the success of an Account Based Marketing (ABM) strategy is dependent on crafting messages that drive engagement and the ability to get those relevant messages in front of your target audience. ABM relies heavily on data, cookies and IP addresses to identify and match contacts to target accounts. This information is then used to deliver campaigns through various channels like email, paid digital ads (programmatic and geofencing), social media and sales outreach.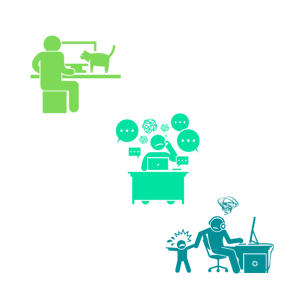 As workers left their offices with dedicated corporate networks, it became increasingly difficult to identify contacts through standard reverse IP lookups. Since most home IP addresses are associated with their Internet Service Provider (like Verizon or Comcast) rather than the company's domain name, it became impossible to identify target accounts through this method.
On top of technical complications, Marketers also had to compete with at home distractions. Between helping kids with school work, cats napping on keyboards, dogs barking at the delivery man, and spouses interrupting throughout the day, many workers found it challenging to balance their workload and family life. All of the extra distractions made it even more difficult to break through the "noise" and engage with key contacts.
Breaking Through Barriers
Despite the limitations of traditional ABM technology stacks that rely on IP address data, there are new technologies and tactics that we can leverage to identify, target and measure ABM campaigns.
One way to get better insights and identify motivated contacts is through B2B intent data. With quality B2B intent data, you can see a contact's online behavior. This can give you actionable insight into key activities of an account's decision makers. Intent data can be used to better understand what contacts are active in a buying process and to help you better understand where they are within the buyer's journey. With this knowledge, your ABM team can design engaging online experiences to entice them down a path towards conversion.
Another innovative tool that can drastically improve your ABM strategy is technographics. This data provides insight into the technology (both hardware and software), and IT budgets of your key accounts. Having this level of intelligence on your accounts can empower your sales, marketing and strategy teams to create hyper-targeted audience segments, better understand the pain points of your customers and personalize your marketing outreach. With this level of data, you can establish deeper relationships and build a bridge between your customer's needs and your solution.
Data & ABM

The enormous amount of data that consumers generate leaves behind a breadcrumb trail of data across all of their IoT devices. Thanks to different methods of tracking and identification, you can build a holistic strategy to deliver your message across multiple devices. This collection of data has helped to advance cross-device targeting. Now you can reach your target audience across multiple devices, including OTT (Over-The-Top) and CTV (Connected TV).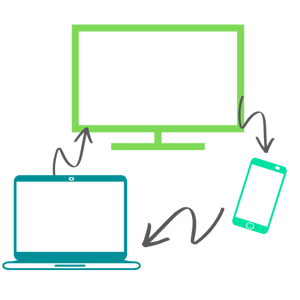 While many B2B marketers are hesitant to advertise on CTV and OTT, these powerful channels can transform your ABM approach. Since your prospects are spending more time at home watching TV and listening to podcasts, it only makes sense to add podcast advertising, OTT (Over The Top) and CTV (Connected TV) channels into your ABM mix.
Cross-device targeting is an effective ABM strategy and utilizing OTT and CTV can help you reach decision makers on larger screens where you can't skip ads. Take your strategy to the next level to guide your key contacts along the buyer's journey with sequential targeted messages from their laptop, to their CTV, and back to their mobile device. Combining CTV advertising with retargeting will provide your prospects with an interactive experience that can be tracked, measured and optimized. As we all face the challenges of the pandemic, it's critical that you build your ABM strategy to reach your key prospects on the devices and channels that they interact with the most.
When you deliver relevant and helpful messaging where your contacts are already are spending their time, you not only strengthen your brand recognition, but you also make it easier for your prospects to engage and interact with your company.
Future-proof Your ABM Strategy
ABM is still one of the most fruitful marketing strategies and it's here to stay. Even with the challenges of remote working, it's one of the most effective ways to attract and build strong relationships with your customers. Building one-on-one relationships will prove to be worthwhile during these trying times and your business growth will be the best proof.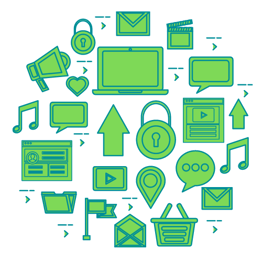 Find a trusted partner, like Trading Up Media, to make targeting and engaging your contacts easier. With the right tools and mix of channels, your ABM campaigns will be stronger than ever. You'll be able to effectively reach your target accounts' decision makers, even when they are working from home in their sweatpants.
Now is not the time to be complacent and stick to the channels and methods that have always worked. Now is the time to future-proof your ABM strategies and develop campaigns so you will Always Be Marketing.