Creativity in Marketing and Advertising
Today is National Creativity Day and as marketers we want to celebrate this valuable skill that we use everyday. Creativity might not be something you associate with marketing but in reality, it is at the core of what we do.
Why Creativity is Important in Marketing and Advertising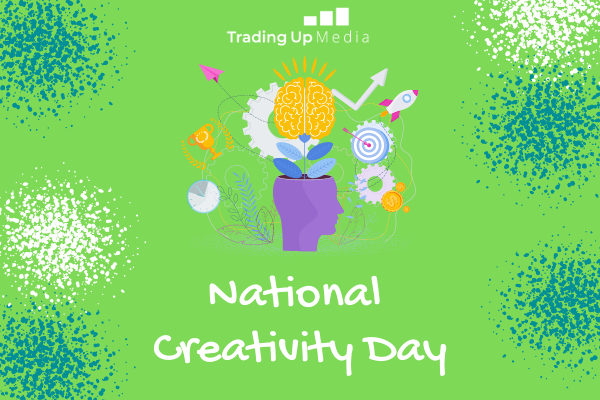 When you hear marketing or advertising, your mind probably goes to data or messaging. Behind all of this work is creativity, which adds meaning to the information being delivered to the public. The only way to catch an audience's attention is to deliver your strategy in an eye-catching way that will make them stop and pay attention. As we like to say, Content is King, and behind all content is creativity.

How to Boost your Content with Creativity

People are constantly consuming different forms of media and the only way to be remembered is to stand out. Creativity is used in marketing strategies to help develop new ideas for promotions or campaigns. Creativity is used in advertising to give life to messages about products and services that may otherwise be boring or insignificant in the hearts and minds of target customers. Though they are different, both are crucial for an effective campaign, you need to market the right message to the right audience. Creativity will help you think outside of the box and help your marketing strategy stay relevant in a fast-changing world.

Creative Equals Personalization

One way to stand out is through personalization. When people receive content that seems to be tailored to them, they are more likely to stop and pay attention to it. It almost seems as though the ad was meant for them which gives the message meaning and that is a result of creative content. Consider the 3 stages of the buyer's journey; awareness, concern, and decision. Using this as an outline to build a campaign that will target your buyer persona in all 3 stages will help you to tailor your creative messages.

Creative Equals Brand Recognition

Through creative marketing strategies and content, brands have the opportunity to make meaningful connections with their target audience. First things first, you must be creative with who you are marketing to, you want to make sure that the audience fits the buyer persona or else the content won't matter. Consumers will notice if a brand is consistently targeting ads to them that are relevant to their interests. The most effective ads are ones that are so creative the consumer doesn't even recognize it as an ad, because it flowed into their life so naturally. They will feel your brand is worthy of their attention and loyalty.

Creative Equals Emotional Storytelling

Humans use emotions to guide their decision making, and storytelling can be used as a way to create an emotional impact and bond with consumers. It is important to keep in mind that consumers are also humans, and at the basis of almost every decision, including the decision whether to buy a product or not, is an emotion like fear, joy, anger, or desire. When consumers see marketing or ads that look like all the others they will not have an emotional reaction. Storytelling will help people resonate with your brand while giving them a clear picture of your brand by guiding the reader along through your journey.